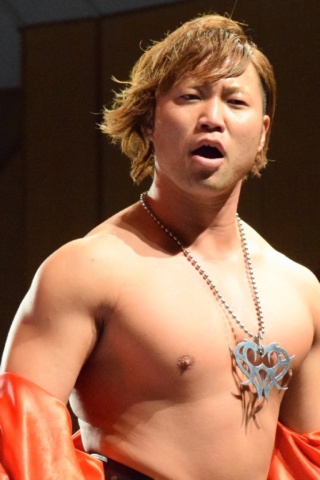 BASIC INFORMATION
Wrestling Name: Kazuya Iwade
Picture Base: Kento Miyahara
Current Nicknames: "The Last Arrow"
Height: 6'1"
Weight: 227 lbs
Hometown: Sapporo, Hokkaido, Japan
CHARACTER INFORMATION
Disposition/Alignment: Face
Gimmick: A graduate from the SSW Dojo, he was never earmarked to be anything more than a supporting talent. A safe pair of hands. Somebody that could make your top guy look like a million bucks, but never destined to reach that level by himself. After a disappointing run as a "Young Lion", Iwade was on the brink of being homeless. Using every last dime to his name, Iwade embarked on an excursion to the UK to educate himself in the art of catch wrestling. An underground fighter-- just trying to make a name for himself, Iwade found himself without a purpose. His skills were sharp and he could hold his own against the best of them. But there was something missing. Seeing the revival of SSW, Iwade looked in the mirror in retrospection and asked himself the question. Was he ready to prove his doubters wrong? Was he ready to show SSW that he could be the Ace? His return to Japan is him taking a step towards Redemption. Iwade wants to be the best. With the Shogun mentality imbued on him, Iwade wants to achieve his dream of being a top draw talent in his home company. SSW.
RINGSIDE INFORMATION
Theme Music: Arrow by GACKT
Entrance: (Just a desc. Can do anything) Isn't a man to bullshit around. Iwade walks straight through the curtains with a spotlight following his every movement. He signals pulling back on a bow and aiming for his opponent (or not) as a pose on the stage before walking down the ramp with confidence and conviction. Donning the steel chain around his neck, he takes a good look at it before placing it at ringside.
MOTIVATIONS
What are your character's motivations for competing?
To redeem his name at the place where it all started. He wants to prove to the SSW faithful and the world that he could be the "Ace". To be the absolute best.
Tendency to Cheat: Never
IN-RING INFORMATION
Wrestling Debut [Optional]: An underground talent rising up the ranks. His big-time debut happened in SSW.
Favorite Match Types [Optional]: Iron Man Match
Least Favorite Match Types [Optional]: No DQ. He'd rather settle fights with fists not weapons.
Favorite Weapon:[Optional] Tends to not use them. If need be, can use his trusty steel chain that he wears around everywhere due to the sentimental value behind it. The very same chain that was used by his landlord at the time, to stop him from entering his house. Iwade parades it around as a constant reminder of his dark days so that he never ends back there. The chain is more for motivation than to be used as a weapon.
In-Ring Achievements [Optional]: None of value.
Wrestling Style: Strong Style-- mixed with British Catch based Wrestling.
Common Moves: Minimum ten (10)
1. Suplex and its variations (German, Northern Lights, Dragon, Tiger, Belly-to-Belly etc.)
2. Barrage of knife-edge chops (could be to a cornered opponent)
3. Arm and Leg wrenches
4. Stretch Variations (Abdominal, STF, Leg-trap camel clutch, Crossface etc.)
5. Gogoplata
6. Clothesline Variations (Short Arm, Ripcord, Discus, Leaping)
7. Shoot Kicks
8. Uppercut variations (European, Corkscrew, Pop up)
9. Penalty Kick
10. Michinoku Driver
11. Uranage (sometimes out of the corner catching an opponent)
12. Arm-Trap reverse STO
13. Backbreaker Variations (Tilt-a-whirl, Avalanche, Irish Curse)
14. Shinning Wizard
15. Wrestling Transitions and Reversals (to get out of sticky situations and in grappling bouts)
Desperation Move: Repeated Headbutts
Signature Moves: Minimum of two (2), maximum of five (5)
1.  Daikyu (Ude-Garami)
2.  Last Ride Powerbomb
3.  Gotch-style Piledriver
4.  Brainbuster
5.  Saramada (Burning Hammer)
Finishing Moves: Maximum three (3) and one (1) optional ultra-finisher (UF)
1.  Last Arrow (Diamond Cutter with theatrics. Can be hit outta nowhere more like an RKO style)
2.  Final Draw (Wrist-lock Spike DDT)
3.  Nocking Point (Koji Clutch. In desperation can hit the opponent with repeated kicks to the face)
UF. Archer's Paradox (Rolling Elbow into a deadlift Saito Suplex with a bridge)
Chris Benoit likes this post
Permissions in this forum:
You
cannot
reply to topics in this forum